Delivery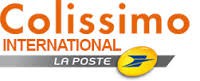 Secret-lingerie.com has chosen SoColissimo International of French group La Poste.
Have your parcel(s) delivered to anywhere you want.
Delivery costs:
-Free shipping in the US, Canada and Australia for all orders over $100. -For anyordersbelow $100, shipping flat rate is $10.
Shipping times
Yourorderwillbeshippedfrom 6 to 9 daysfor all in-stock item(s), for anybackorder item(s), the shipping times isbetween 10 and 15 days.